Nerves of steel? Become a driving instructor!
Imagine the scene; you're sitting in a little red car plastered with leaner sticks all over the outside. A nervous learner is sat alongside you, hesitant on whether it's safe to pull out of a T-junction. Just when you think they will wait for the oncoming bus to pass they suddenly bolt forward and out onto the main road. Thankfully the bus driver has second guessed the learners actions and slows to a crawl to let them out. You calmly direct instructions to the slightly flustered learner, wave your hand to the bus driver to show your appreciation and you're on your way. If you can remain calm in the face of adversity – and do this 365 days a year, perhaps you should consider becoming a driving instructor.

There are a lot of good reasons why being a driving instructor is a good career for life. Firstly, you'll be your own boss, work your own hours and dictate your own salary. It's a very flexible job where the more effort you put in, the more you will get out. Plus, there's the job satisfaction in knowing you're helping people, often young adults, to graduate to the next step in their lives of owning and driving a car. That's a freedom that nobody forgets!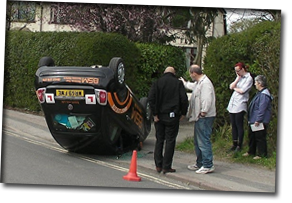 You can also take comfort in knowledge that your hard work and good tuition will help to equip your students with driving skills that will stay with them for a lifetime.
So if you want to be a driving instructor, where do you start? Well, the laws and requirements vary depending on which country you're from. For example, in the UK you must have held your full licence for over 3 years and have no more than 6 penalty points on it. You'll then need to complete a training course from an approved driver instructor training centre to become an ADI, or an approved driving instructor. Courses start at around £1000 and increase depending on how many hours tuition you require. There are also various payment options and career development loans available to help you pay for the course and get you working as quickly as possible.
Once qualified you may decide to work for one of the many national franchises who will help you market yourself and find new students. For a fee, they will provide you with a car complete with full insurance. In return you can expect to earn around £35,000 ($47,000) a year, plus you'll have use of the car outside of your working hours. On the downside, many students will require tuition when it's convenient for them which will mean you will find yourself working evenings and weekends.
After a couple of years, many driving instructors decide to form their own business within their local region. Once your reputation has been established, past students will recommend you to their friends and you will have less need to advertise your services. For the ambitious, there is also the option to one form your own national franchise to recruit new driving instructors or start your own driving instructor academy.
There are lots of
good jobs
in this world, if you've got good communication skills and can relax under pressure, becoming a driving instructor could turn out to be yours!