A job with a bright future, become a dental hygienist
Jobs in the dental profession have always been a popular career choice due the excellent career prospects, good working environment and great pay. Most people who graduate with a degree in dental hygiene normally find work pretty quickly since there's currently a shortage of qualified applicants. It's also a growing industry with bright prospects that's ideal for anyone interested in a caring profession.

Are you the right person for the job?
As with any career choice you should make sure you are happy with the working environment and that you possess the right skills for the job. Do you enjoy working with people? Do you have good communication skills? As a dental hygienist, you will have to explain to various treatments to patients in a way they can understand. Some of these patients will be nervous or anxious about the procedure so you have to use your skills to relax them so they are comfortable with you. As well as being a caring and compassionate person, you also need to be able to educate your patients on how they can improve their dental hygiene. It's a challenging job that requires a lot of dedication on your part to keep up to date with the latest developments in the industry.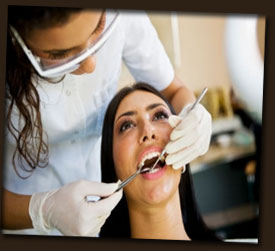 The role
The main job of a dental hygienist is to prevent and treat gum and teeth problems. Common duties include scaling teeth, polishing teeth, taking x-rays, advising on dental hygiene, assisting dentists and accurately recording dental histories. The job is mainly based in a dentist's surgery however you may also participate in school visits to educate children on good dental health.
Study & Training
The route to becoming a dental hygienist will depend on which country you're from. In the US, most people choose to study a two year associate's degree at a community or technical college. In order to enrol you would normally require a high school diploma or GED with an average 'C' grade. You should also have studied maths, English, chemistry and biology.
For UK based applicants, you will also study a two year diploma in Dental Hygiene. In order to be eligible to apply you should have five GCSE's from grade A-C and have two A-level's with grades A-C, preferably with one in a science based subject.
There are also options to become qualified by joining the army, the navy or the air force where you will be sponsored for the duration of your studies.

Salary Expectations
Dental hygienists are in demand and as such they earn in excess of the national average. Newly graduated hygienists start on around $40,000 (£28,000) which rises quickly with experience. A dental hygienist with five years experience in an established practice can expect to earn over $80,000 (£50,000) a year.